What is Clicker School?
Clicker School is setting a new industry standard with revolutionary classroom interaction through the use of our eduware response pads or any mobile device like smart phones, iPads, iPods, Kindles, Netbooks, or laptops. This is online formative assessment at its best with exercises, games, and assessment activities. Contains over 52 subject courses and over 180,000 questions.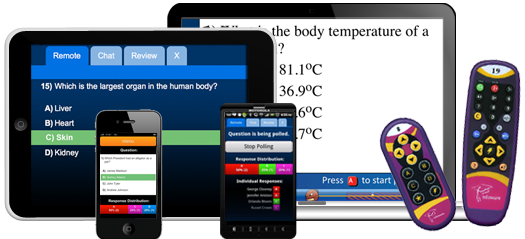 Clicker School Goes Mobile
The ClickerSchool Virtual Clicker provides an easy-to-use way for teachers and students to view and answer questions, as well as record their results. This app allows you to use your mobile device as a virtual clicker.




Educational Activities





A smarter student response system for the mobile age

Works on ANY web enabled device
Schools save money by using students' personal devices
Teachers save time by creating and saving activities online
Students receive instant feedback throughout the session
Performance statistics are displayed in graphs and charts
Students can access their accounts and view their reports from anywhere
Integrated chat feature allows students to chat with the teacher
Get it now on any of these marketplaces for FREE!